You might want to watch our Indochina trip before you get started!
Since I only had two weeks of leave from work, my friend and I tried to squeeze everything into 2 weeks, meaning shorter days in each destination, including Vietnam!
This country has so much to offer and it's so unfortunate that we only made it to Ho Chi Minh and Mui Ne. Oh, the downside of having a full-time work! Anyway, here goes!
---
HO CHI MINH
Accommodation
Located in District 1 — close to some of Ho Chi Min's most popular attractions
a short taxi ride or approx. 15-min walk away from the War Remnants Museum, Notre-Dam Cathedral, and the Ben Thanh Market
laundry services, 24-hour front desk, free WiFi, and ROOFTOP!
Things to Do
Ben Tanh Market (+street food)
free WiFi *wink*
the ultimate shopping destination for budget travelers (you are welcome to haggle!)
inside are lots of stalls selling a huge variety of different items from local foods, tropical fruits to Vietnamese clothes and souvenirs.
also famous for the cheapest yet amazing street food in Saigon
opening hours: 24 hours from Monday to Saturday
 Cu Chi Tunnels
a day tour will show you a network of tunnels built by the Viet Cong during the Vietnam War
guided tours are available from travel agencies all over Ho Chi Minh City
opening hours: 7 AM to 5 PM every day
Cao Dai Temple
headquarters of the Cao Daism – a religion combining Christianity, Buddhism, Hinduism, Islam, Confucianism, Geniism, and Taoism
open every day — a visit to this temple is usually combined with Cu Chi Tunnels
photographs are permitted but under the instructions of priests

Reunification Palace
former Presidential Palace of South Vietnam
contains a variety of exhibits on the fall of the South Vietnamese government
opening hours: 8 AM to 11 AM and 1 PM to 4.30 PM every day
tickets are purchased at the main gate with the rate around VND 30,000 per visitor
War Remnants Museum
exhibits moving photos of life during the Vietnam war (known as the American War in Vietnam)
features a collection of items about the American phase of the Vietnam War: planes, tanks, helicopters and other war machinery
opening hours: 7.30 AM to 12 AM and 1.30 PM to 5 PM every day
Central Post Office
famous for its French architecture
opposite to Notre Dame Cathedral and can be combined in one visit
opening hours: 6AM – 10PM, free admission
what's inside?

traditional postal services – mailing, selling stamps or postcards, sending packages
souvenirs for guests
foreign money exchange
Notre-Dame cathedral
opening hours: 5.30 AM to 5 PM daily
an interesting thing to do: attend a mass and see a lot of worshippers and Gregorian Chanting

weekday masses are held at 5.30 AM and 5.30 PM.
Sundays: 5.30 AM; 6.45 AM; 8 AM; 9.30 AM; 4.00 PM; 5.30 PM; 6.30 PM
Pham Ngu Lao
the Khao San Road of Saigon aka backpacker's street
a visit to Pham Ngu Lao road is not completed without an ice cold beer and a bowl of pho
a favorable place for expats and foreigners to enjoy the city life after dark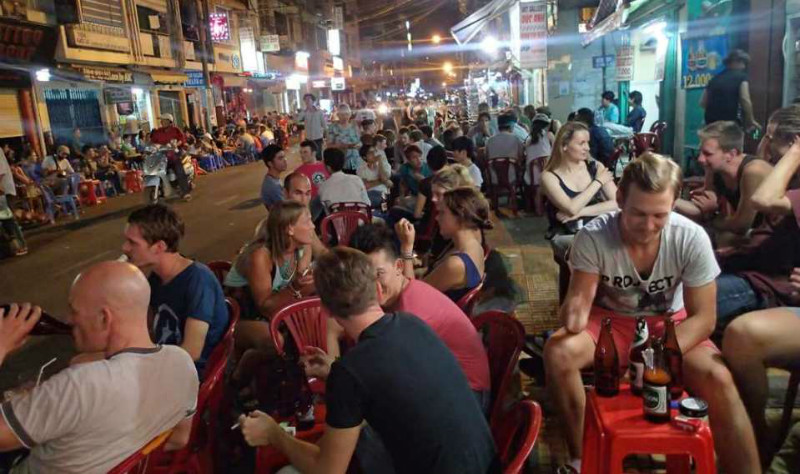 ---
MUI NE
Getting to Mui Ne from Ho Chi Minh:
Bus – these two lines can pick you up and let you get off at Mui Ne's resorts

Phuong Trang Bus line

Address: 274 – 276, De Tham Street, District 1. Phone: 08 38375570

Sinh Café Bus line

Address:  246 – 248, De Tham Street, District 1. Phone: 38376 833 – 38369 420

Train

For common train

ticket fee: 110.000 VND / 4.82 USD
SPT for trains departing in the morning and PT4 for trains departing in the weekend evening
Tickets can be bought at Saigon Train Station

If you choose this mode of transpo, then you will have to get off at Phan Thiet train station and catch a bus from there. Don't worry as you can buy bus tickets in the train which are about 30.000 VND or 1.31 USD for each passenger. Those buses will pick you up at the train station and take you to Mui Ne's resorts.
Accommodation
I highly recommend this hostel because you get to have your own room and a great pool at a very cheap price! Also, the place is clean and they have happy hours!
Things To Do
Explore Mui Ne by motorbike
Mui Ne offers a different vibe of Vietnam. From sand dunes to beautiful beaches and hundreds of options for sunset spots, riding a motorbike will surely satisfy your wanderlust for only 200.000 VND or 8.76 USD a day!
Swimming
There are plenty of beautiful beaches to choose from. Your hostel can be a good insider! *wink*
Sand Dunes + sunrise/sunset
Two options:

book a tour with a group or a private tour in a jeep – these tours range anywhere from $10+ per person depending if you do it with a tour group or not
do-it-yourself by renting a bike/car – motorbike costs for around $6 – 10 per day

Upon arrival, you have to pay 10.000 VND (about $.50 Cents)
Activites include sandboarding, a four-wheeler ATV ride (not worth it, I tell you) and a kayak across a beautiful little lake next to the white sand dunes
Fairy Stream
disclaimer: no fairies to be found 
famous for its ankle-deep stream walking with a view of gorgeous sand valleys and natural stalagmite hill in white and red color
there is no entrance fee at the Fairy Stream but if you wish to wash your feet afterward, then a local will ask you an amount of 5.000 VND
El Latino 
For latino vibes, great food, cocktails, and relaxed atmosphere, this is a must-visit! We were just walking around the area until we stumbled upon this place. From tapas to Fajitas, the quality of the food is great! Also, I heard the chill vodka shot is a killer! *wink*
Walking distance from Mui Ne Backpacker's Hostel
opening hours: M-S: 8AM-2AM, Sun: 8AM-12MN
---
Must-eats
Pho
fried rice noodles — aka the superstar food of Vietnam
two types of pho: beef noodles and chicken noodles which are served in a bowl
Banh Mi
Vietnamese Baguette
found in restaurants almost everywhere around the world, this Vietnamese sandwich is always an ideal food option, especially when you're starving, for an appetizing taste at a very reasonable price tag
Bun Rieu (pork and crab noodle soup)
A traditional Vietnamese soup that is not as well known as Pho but is just as good or even better. Try it yourself and see which one makes the win!
Bun Cha
Best lunch food of Vietnamese people. Accompanied by deep-fried spring rolls, ingredients are grilled pork patties and pork belly served with fish sauce, vinegar, sugar, and lime, which all makes a barbecue soup that is eaten with rice vermicelli and fresh herbs.
Vietnamese Iced Coffee
There's something about their iced coffee that stands out from the rest of the world. What is? I dare you to figure out yourself!
Vietnamese Spring Roll
Ingredients used are usually lean minced pork, edible mushrooms, sea crabs, shrimps with different seasonings. All of these wrapped in a transparent rice paper and then fried in oil.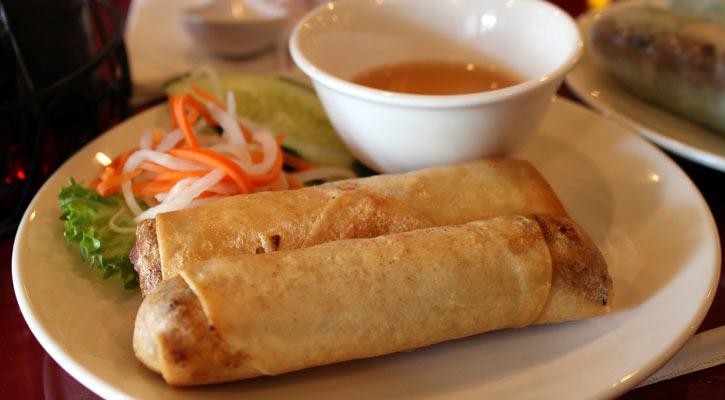 ---
Getting Around Vietnam
Renting a motorbike is perfect for you if:
you're after independence, not having the need to wait for anyone
you want to see many places that most people do not see (explore the unknown!)
you are looking for an adventure and do not mind the risks that come with motorbiking
Anyway, roughly 90% of the roadway and highways in Vietnam are motorbikes. So, it sure is cool to do it like a local and get on this two-wheeled ride.
Driving in Vietnam requires an extremely cautious and attentive driver though. So make sure you have familiarized yourself around the big cities first before you do a cross-country tour.
Taking a bus
cheap, comfortable and available in almost all places. Buses are literally EVERYWHERE!
take sleeper buses if you're moving from one place to another — saves you from spending a penny for accommodation! **keep an eye on your belongings though
you can easily book tickets through travel agencies — they are everywhere but I suggest you go to 3-4 first then decide which has the best offer.
Taking the train **of course, nothing beats a local train ride
take this if you plan to explore Vietnam from north to south
to help you plan your route, check out the Vietnam Railway Website but..
do not purchase tickets from the Vietnam railway website as their prices are really high
Should I go back to Vietnam and explore the rest? DEFINITELY!